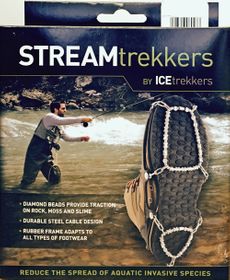 STREAMtrekkers
Description
STREAMtrekkers will help keep you upright when fishing in fast-moving rivers and streams.
They can be worn over rubber and felt-soled fishing shoes as well as wading boots.
The patented Diamond Bead design has hundreds of biting edges that grip in all directions for sure traction on slick bedrock.
The beads, made of case hardened steel alloy, are strung on extremely durable steel aircraft cable.
The tough rubber outer band adapts to all types of footwear and provides a secure fit.
The simple to use design can be easily cleaned to stop aquatic invasive species transport.

* Diamond beads provide traction on Rock, Moss and Slime.
* Durable steel cable design
* Rubber frame adapts to all types of footwear.

* For regular boots add one shoe size
* For wading boots add two shoe sizes

WARNING: Although STREAMtrekkers will aid in walking on slime and moss covered rocks, STREAMtrekkers will not eliminate the inherent risks of such conditions.
You May Also Like...